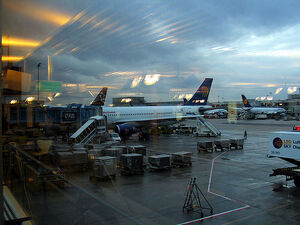 Emperor Edgard II International Airportis Edgardia's international airport. With an terminal capable of handling more than 9 million annual passengers, it is one of Alexandria's most modern airports.
It is controlled by Ateliers d'Automobiles et d'Aviation, and it is named after the current Alexandrian monarch Emperor Edgard II. The airport handled 6.8 million passengers in 2003.
The airport is equipped with a runway 11/29 3.200 × 45 m long. The airport's administration has announced that planning is complete for construction of the second runway.
Airlines
Edit
Ad blocker interference detected!
Wikia is a free-to-use site that makes money from advertising. We have a modified experience for viewers using ad blockers

Wikia is not accessible if you've made further modifications. Remove the custom ad blocker rule(s) and the page will load as expected.